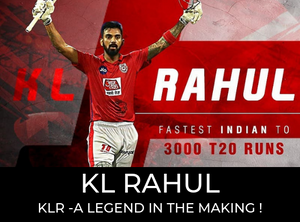 KLR - A legend in the making !
For the more than 1.3 billion people in India, cricket is more of a religion than a sport. Players like Sachin Tendulkar are elevated to divine status by their loyal fans, where the players in the team look more than mortal beings. Under such circumstance, making it to the playing 11 of the national side is no small feat. Among the big names like MS Dhoni and Virat Kohli of Indian Cricket, there is a new name popping up, K L Rahul or just KLR.
You will remember him for his majestic half-century in just 14 deliveries in the 2018 IPL tournament. Perhaps more vividly for hitting that slog sweep for a six off Amit Mishra's delivery, and falling on the pitch on his follow-through. A right-hand batsman and a capable wicketkeeper, KLR is a solid investment for the future of Indian cricket.  During the ICC World Cup 2019, he may have seemed a little nervous with his batting at times, but sharing the Indian top order with Rohit Sharma and Virat Kohli is only going to make him a more mature opener.
Early life
Kannur Lokesh Rahul was born in the year 1992, to an academic family of two professors. His father was also the Director of National Institute of Technology Karnataka. His mother, who was a faithful fan of cricket, supported the young kid grow a liking for the sport. The solid base of early teachings in the game is shown in his great technique. KLR is often mentioned in connection with another Karnata player Rahul Dravid, a true technician of the Indian cricket and a well-respected player. KLR is fortunate enough not just to share a name and home state with Dravid, but to get mentoring from him.
Domestic Cricket
KLR[Office1] [Office2]   started playing for his home state Karnataka in the 2010-11 season. He was selected to the Indian Under-19 World Cup squad heading to New Zealand the same season but did not perform up to his talents. He did not have a place in the Karnataka team in the 2011-12 season, only to return to the side in 2012. He proved himself to be an improving player on his failures and went on to score a total of 1033 ending up the second-highest scorer of the 2013-14 season.
His remarkable game was in the 2014-15 season when he played for the Southern Zone team against the Central Zone in the finals of the Duleep trophy. There he scored 185 in the first innings, followed by another 130 in the second innings. He not only won the player of the match but the faith of the Indian National selectors to book a place in the national side touring Australia.
Returning from the Australian tour, KLR became the first player to score a triple century for Karnataka when he scored 337 against Uttar Pradesh. He then went on to score 188 in the final against Tamil Nadu. Despite not playing a full season due to his Australian tour, KLR ended up the fourth highest scorer of the 2014-15 season. He scored 838 runs, with two centuries and an average of 93 in the nine innings he played. In comparison, the highest scorer had only scored 912 runs playing for 19 innings.
International Cricket
Test Cricket
KLR started his test cricket career in December 2014 against Australia at Melbourne. He debuted at number six position, only to be out with just three runs to his name. He was promoted to number three position in the second innings, but was out for just one run. Despite the failure at his debut game, he was promoted to open in the next match at Sydney. There he paid for the trust placed on him by scoring his maiden test ton of 110 in the first innings.
After Australia, he accompanied the Indian team to Sri Lanka, where he had mixed results. In the second game of the three-match series, he scored a 108 in the first innings. However, in all other five innings, he only scored a total of 18 runs. This earned him the reputation of being an 'all or none' player; in other words, he may go on to score a century or get out without getting to double figures. In 2016 he went on to score two more test centuries, 158 against West Indies at Kingston and a memorable 199 against the England team at Chennai, aiding the Indians to get an innings win against the visitors.
The year 2017 was a mixed year for KLR. First, he had to take a break from the Bangladesh series since he was down with Dengue fever. Returning for the Border-Gavaskar Trophy against visiting Australians, he scored 393 runs, with six half-centuries at an average of 65.5. Afterward, he again had to take a break from the game due to his shoulder injury and was ruled out of the entire IPL and the Champions Trophy. Returning to international test cricket, he managed to score a 149 against England at Oval. This was his fifth century, but it came more than 20 months later from the fourth. KLR has played 34 test matches to this date scoring at an average just over 35, mainly playing as an opener to the Indian Test side.
One Day International (ODI)
KLR made his ODI debut in 2016 against Zimbabwe at Harare and went on to score his maiden ODI century there. This was the first time an Indian player scored a century on his ODI debut. He was a promising prospect for the Indian side heading for the 2017 Champions Trophy in England and Wales. Unfortunately, a shoulder injury robbed him of the opportunity, where he flew to London not to play for his country, but to undergo a surgery.
Despite the promising start, his ODI career had been a lot of ups and downs and only in the 2019 world cup against Sri Lanka at Leeds he managed to get his second ODI hundred. With this century, KLR became the only player to ever score centuries in all three formats of the game on English soil. While only playing 23 ODIs he has averaged over 39 runs, but given his talent, he could do much better.
Twenty-Twenty International (T20I)
Perhaps KLR's highest success came in T20I cricket. His debut was in Harare against Zimbabwe in 2016. In his second series, he managed to get his first T20I hundred against West Indies at Lauderhill, joining a prestigious club of a handful of players to score a century in all three formats of the game. He was only the third Indian player to reach this milestone. This century also came in 46 balls, the second-fastest in the world and the fastest for an Indian player. Also, this was the first time in the T20I history when a player from outside the top three places scored a century, where KLR played at the number 4 position.
In 2017 he had two successful T20I series, first against visiting England team and then against the hosting Sri Lanka. In both these series, he became the second-highest run-scorer for India. He went on to score his second T20I ton against England at Manchester in 2018. While playing 27 T20 internationals, KLR has an average of over 43, the highest for him in the three formats of the game.
Indian Premier League (IPL)
With a solid technique, KLR looks more of a test player than anything else. But he is the one who holds the record for the fastest fifty in IPL cricket when he scored his half-century in just 14 balls in 2018 [Office3] series playing for the Kings XI Punjab. It is remarkable when you think about it, when IPL is played by almost all the explosive batters in modern cricket like Chris Gayle, AB de Villiers, and Glenn Maxwell.
KLR got his IPL debut in 2013 playing for the Royal Challengers Bangalore as a wicketkeeper-batsman. He then played for the Sunrises Hyderabad for the 2014 and 2015 seasons but returned to the Royal Challengers team in 2016. He was unable to take part in the 2017 IPL season due to his shoulder injury. His most successful seasons were the 2018 and 2019 seasons, where he played for Kings XI Punjab, opening the innings alongside Chris Gayle. In 2018 he finished the season as the third-highest run-getter, improved on that to become the second-highest in 2019. The same season he was also awarded the FBB Stylish Player of the Series Award.
KLR's IPL batting average is 42. That is for scoring 1977 runs in 67 games by the end of 2019 season, with one century. Compare that with the Indian legend and KLRs mentor Rahul Dravid, you will realize how special this youngster really is. Dravid has played 89 IPL games and scored 2174 runs, but only at an average of 28. Not only this, KLR has a total over 3000 runs in both domestic and international T20 games combined. He reached 3000 runs in just 93 innings, sixth fastest in the world and the fastest for any Indian batsmen.
Share of Controversy
Young players find themselves unable to avoid controversies these days. With social media at the fingertips and a vibrant fan base eager to pick on the slightest gossip, it is in fact, a walk on the tight rope. KLR in January 2019 made headlines with his comments at an Indian Talk Show named 'Coffee with Karan', which left him becoming banned by the Indian Cricket Board alongside Hardik Pandya. Luckily the ban was lifted in a short period allowing the two young players to play for the Indian team once more.
Gossip seems to follow KLR wherever he goes these days, as the twenty-seven older is now one of the most eligible bachelors in the Indian team, if not in the entire country. He had a few names associated with his over the years where a curious fan base is always keeping tabs on his future moves.
World Cup 2019
KLR did not start the 2019 world cup as an opener, which had been the case for most of his ODI career lately. In the first two games, he played as a middle-order batsman and did not have the freedom to play his natural game. The injury of Shikhar Dhawan opened up a slot in the opening pair, which KLR was the obvious choice to fill. And he did not disappoint the selectors by scoring a half-century against their all-time rivals Pakistan, in the first chance he got to open. With the century against Sri Lanka and half-centuries against Pakistan and Bangladesh, he ended the tournament in a positive note.
But other than against the subcontinent teams, KLR did not have much success. He failed to find any luck against the good pace attacks of teams like England and New Zealand. When India lost to England in the group stage, he did not bother the scores by getting out for a duck. And, in the all-important semifinal match against New Zealand, he only scored one run. Against the moving ball of the quality pace attacks, he was seen a bit nervous at the crease, which will continue to trouble his reputation as a well-established opener.
After the world cup, India will head off to West Indies, and KLR will be the first choice as a Test opener. He could very well open for India in the limited-over formats of the game, since Rishabh Pant is more likely to keep wickets while playing at the number 4 position. The last time KLR was in the West Indies, he had a good series, and he will take that confidence alongside the lessons learned in the recent world cup.
KLR has proved his mettle in international cricket. At the age of 27, with just 84 matches under his belt in all three formats, he has achieved a remarkable feat. And he has a very solid technique to back him, which makes him quite an elegant player to watch. However, lack of consistency with the runs and injuries have robbed him of a permanent spot in the team. With such a long list of openers waiting to grab his place, the pressure to perform is immense on young players like KLR[Office4] .
So far the Indian cricket selection has shown faith in him and given him a chance to improve his game. And started as a red ballplayer, he has made tremendous progress in the white ball version over the years. Continuous success in the IPL and the opportunity at the world cup is going to help him to build more self-confidence to become better at his game. One thing for sure, we have seen just a fraction of the talent of this young man, and he has much to offer to the Indian cricket in the years to come.
#KLR #RAHULKL #SGBATS 
#ONLINECRICKET
---